Fruity Fun in DT!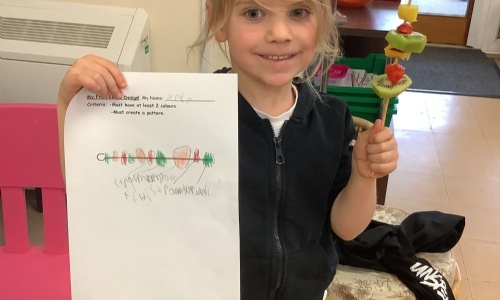 Fruity fun in DT using our Mathematics pattern-making skills!
Our DT unit was all about food preparation this half term! The children designed their own fruit kebabs, following certain criteria. They made a plan, prepared the fruit, followed the pattern outlined on their plans, enjoyed their tasty treat and finally evaluated their work! We also worked on our tallying skills after voting for our favourite fruit.
The children also had a wonderful treat with their morning snacks- they got to eat the gigantic ice lollies that they made the day before! Again, they had designed their own ice lollies, labelling their chosen flavours. They poured together their mixtures, and impressed me with their adventurous curiosity.
Our classroom smelled delicious this morning!