Yummy Science!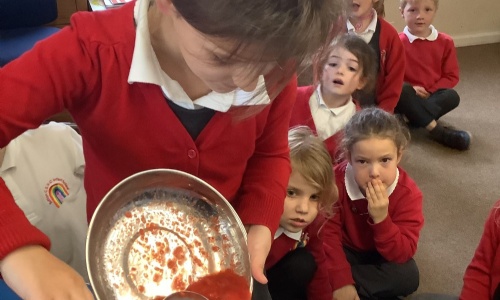 We used our Science knowledge while making ice cream!
This in Science we explored how we can change the state of various ingredients to make ice cream!
After washing our hands and the work surface:
We turned the strawberries from solids into... mostly liquid!
We thought about how the strawberries were solid, so the pack was measured in grams.
We thought about how the condensed milk and double cream are liquids, so the containers were measured in millilitres.
We carefully read the scale on the measuring jug to pour in the right measurements.
We gave it a mix and poured it into a container: We observed how liquids fill every space in a container from the bottom up, but solids pile on top of each other, leaving gaps.
We popped it into the freezer and enjoyed tasting the fruits of our labour at break time the next day!